Potts Valley Branch
The Big Stony Railway Co. was chartered in 1892. By 1897, a bridge had been built across the New River to connect the line up Stony Creek with the N&W. The bridge was largely destroyed by a flood in the spring of 1901. From the Board of Directors meeting on May 10, 1901: "Mr. Woodman reported to the board that recent floods have almost totally destroyed the Company's bridge over New River, one pier being totally carried away together with two spans of iron work and all the approaches, 2 piers and 1 span of iron only remaining and these in a damaged condition. He further stated that the estimated cost of restoring the bridge is $15,000 or more, and that the Giles and Bland County Transportation and Development Co. which is now operating the Big Stony R'y is willing to incur the cost of reconstruction of the bridge on certain conditions to be embodied in a contract." That contract was put in place and the bridge repaired.
In early 1905, since the company had no money and substantial debts, the board was shuffled and several officials from the Norfolk & Western Railway were installed in place of board members who resigned. The N&W then, as reported at the March 30, 1905, board meeting, acquired the shares of stock of the company. Not long after that, the N&W started in motion the plans and created the companies with charters necessary to extend the branch from its present terminus to the state line, into West Virginia to Waiteville and beyond, then back into Virginia to end at Paint Bank.
At a special board meeting on September 3, 1907, an agreement between the Big Stony Railway and the Tidewater Railway Company dated Nov. 6, 1906, was discussed. In the agreement, "it was provided that the Tidewater Company should be permitted to build and maintain a grade crossing over the railway of this Company at a point in Giles County, Virginia, on the north side of New River as therein set forth.
"AND WHEREAS, the said agreement provided further for a change in the location of the line of this Company and for mutual conveyances between this Company and the Tidewater Company of portions of their respective rights of way, in order to provide for the relocation aforesaid."
The resolution noted the Tidewater had "been merged or consolidated with the Deepwater Railway Company of West Virginia, under the name of the Virginian Railway Company" and ratified the agreement.
The change in location of the line near New River was noted as between "Mile Posts 0-38/100 and 1-44/100, shown on Map A-391 prepared by Chief Engineer dated August 21, 1907." The revised location was from near the north end of the bridge over New River at Mile Post 0.38 -- about 427 feet crossing the Virginian Railway to the north side -- to Mile Post 1.30 -- then curving to the right to the former center line at Mile Post 1.44.
The property exchange is listed in deed books in Giles County.
At another special board meeting on April 3, 1908, a resolution was adopted: "RESOLVED, that the President be and he is hereby authorized to expend the sum of $7,200 for the construction of a gravity water supply station near the mouth of Big Stony Creek, M.P. 1.33 of Big Stony Railway, for the joint use of the Big Stony Railway Company and the Virginian Railway Company under Chief Engineer's Requisition No. 4674."
In the intervening years, the N&W worked on extending its branch. A mileage statement was provided to L.E. Johnson, president of the N&W, from the Office of the Engineer, dated July 29, 1909.
Miles
from jct.
Miles from
Norfolk
Junction of Big Stony Railway
0.00
324.27
Big Stony Station
0.05
324.32
Siding - Lower Switch Point
0.07
324.34
Siding - Upper Switch Point
0.24
324.51
Crossing Virginian Ry.
0.44
324.71
Connection with Virginian Ry. P.S.
0.46
324.73
Water Tank (Joint Use With Virginian Ry.)
1.33
325.60
Snidows Mill (Platform)
1.67
325.94
Kimballton Siding (Switch Point)
3.07
327.34
Kimballton (Platform)
3.12
327.39
Henderson (Kerns Mill Station)
4.16
328.43
Siding - Switch Point
5.08
329.35
Olean P.O. (Store)
5.14
329.41
Siding (Switch Point)
5.41
329.68
Siding (Switch Point)
6.18
330.45
Siding (Switch Point)
6.66
330.93
Water Tank Station
6.75
331.02
Siding (Lower Switch Point)
10.27
334.54
Siding - Engine House (Switch Point)
10.41
334.68
Siding - Upper Switch Point
10.47
334.74
Interior Station
10.57
334.84
Water Tank
10.77
335.04
Kire Siding (Switch Point)
15.16
339.43
Kire
15.21
339.48
State Line (End of Big Stony Ry. and beginning of the Interior and W.Va.R.R.)
16.65
340.92
Temporary Siding (Switch Point)
19.49
343.76
Ray - Proposed Siding
22.07
346.34
Water Tank
24.10
348.37
Passing Siding
25.35
349.62
Coaling Station (Proposed)
25.62
349.89
Station Siding (Proposed Switch Point)
25.68
349.95
Waiteville Station
25.78
350.05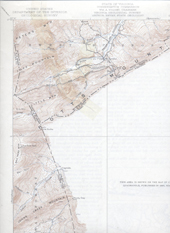 1932 Waiteville topographic map
Good information about this line can be found in "The Potts Valley Branch Railroad and Tri-State Incline Lumber Operation in West Virginia and Virginia, 1892-1932," an article by Will Sarvis that was published in the West Virginia History Journal, Volume 54 (1995), pp. 42-58
There is also an article, "Potts Valley -- N&W's forgotten branch line" by John Joseph, which appeared in The Arrow (published by the Norfolk & Western Historical Society), in Vol. 18, No. 4, July/August 2002.